Users Table:

Need more columns on the Users page in Studio? You got it. Scroll side-to-side to view your new columns.

Manage Your Appcues Team:

It's now easier to manage your team inside Appcues. Get a clear view of invited users, invite multiple users at once, keep an eye on invitation status, and manage them all from the Team page in Studio. Teamwork makes the dream work! 👥

Journeys:

Say hi to the Navigator tab in Journeys 👋 and use it to jump around your more complex Journey canvases quickly. Also, you can now move the Filters panel for easier editing and rename a Journey after it's created.

Mobile Slideouts:

Make announcements on native mobile apps with a small-to-mid-sized UI pattern that slides smoothly onto your user's app screen. 🕺

Mobile Tooltips:

Now, set

Target

Actions

for your mobile Tooltips and decide when users interact with the target element if they should advance, dismiss the Flow, go to another page, or see another experience.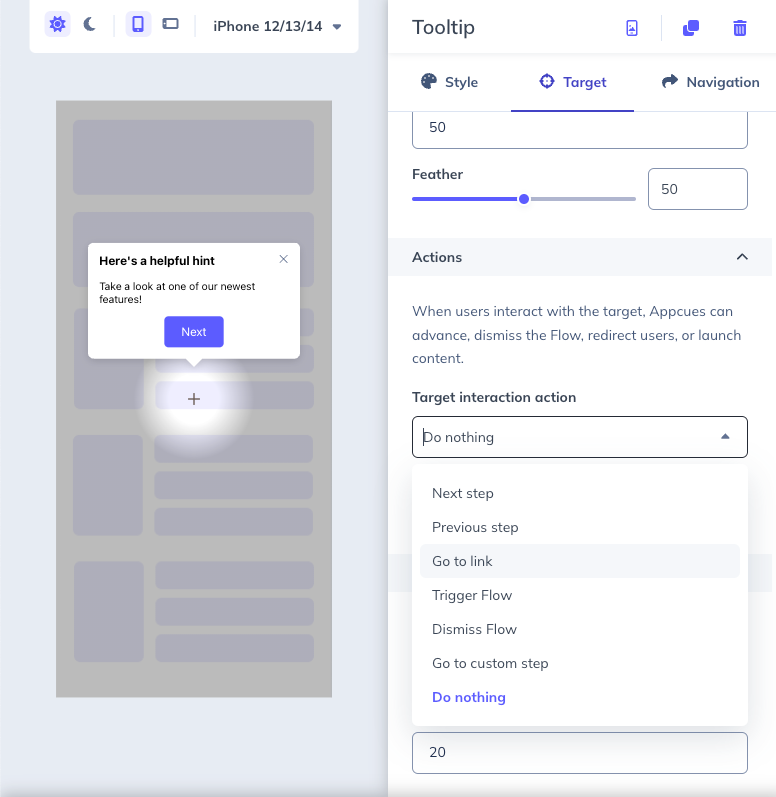 Account Profiles:

Get ready to lay your eyes on crucial company-level data and metrics from various sources inside Appcues for a seriously comprehensive view of account engagement. Join the beta

Salesforce & HubSpot Integrations:

Soon, sync account-level profiles from Salesforce or HubSpot into Appcues for targeting and reporting. Reach out to join the beta
Tooltips:

We fixed an issue where hard backdrops were persisting on pages when the tooltip was not visible.

Banners:

We fixed an issue where Banners created from Studio weren't looking as designed. Now, Banners will look and behave the same, whether created from Studio or Builder. 🪄